Courtesy - Examiner.com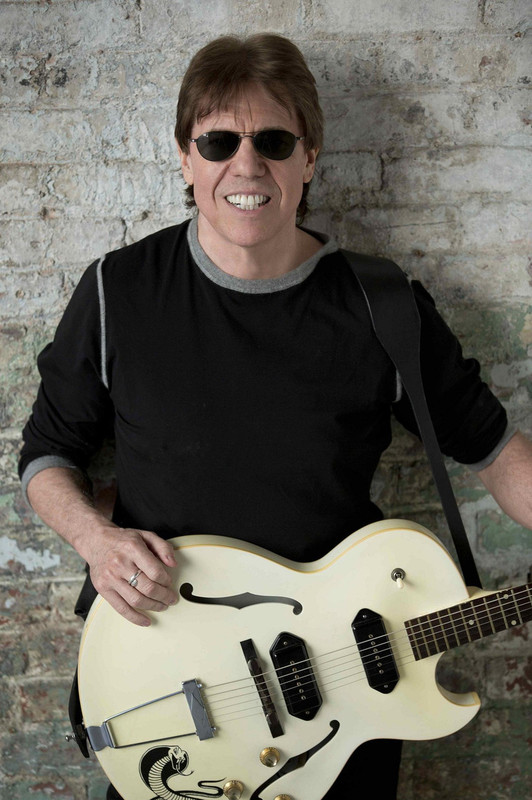 George Thorogood's a straight-shooter, both onstage and off.
Speaking with the guitarist by telephone in advance of his July 1st show at Hard Rock Rocksino at Northfield Park, we found ourselves both charmed and disarmed by the Delaware native's quick wit and conversational je ne sais quoi.
A good journalist does his homework. But you've got to stay sharp while interviewing Thorogood, or he'll wrest away the reigns, turn the tables, and fire some zingers back at you. He's a cordial dude, the kind you'd want to belly to the bar with and pound a couple brews, just like in his songs. His relaxed tone put us at ease, even if some responses made us feel like we were a day late and a dollar short. One imagines the "I Drink Alone" author isn't unlike the cobra pictured on the body of his white Gibson ES-125 guitar, sly and resourceful. Certainly mischievous, if not devious.
So we're unprepared when George jumps on the line and get things rolling with a question of his own—a query straight out of left field. Literally.
But yes, Thorogood and his Destroyers—now in their 40th year together—are about as consistent as it gets in rock and roll, churning out album after album of raucous, blues-based guitar rock that still gets the blood pumping. Got the Wednesday hump-day blues? Looking forward to 5 o'clock? Ready for the weekend? Few artists are as synonymous with barroom bacchanalia and bad-boy braggadocio as Thorogood, and—not withstanding Springsteen's "Born to Run"—few songs can fire up your average blue-collar Joe for quittin' time as well as "One Bourbon, One Scotch, One Beer."
And when it comes to playing the hits, George doesn't skimp. Fans can expect to hear all the classics—from "Bad to The Bone" and "I Drink Alone" to "Who Do You Love" and "One Bourbon"—when The Destroyers take the Hard Rock Stage.
Legendary liquor-centric lyrics aside, the raconteur of alcohol-fueled revelry remains a staunch proponent of responsible partying. In concert, Thorogood still suggests having your nondrinking buddy drive you home (or better yet, have your buddy's girlfriend drive you home). During our twenty-minute chat, George shared his thoughts on his guitar style, the history of Classic Rock, and his admiration for C-Town's love of live music.
Move it on over; here's a hefty helping of Thorogood for you.
GEORGE THOROGOOD: What's the story on those Indians?
CLEVELAND MUSIC EXAMINER: Er…Indians?
GEORGE THOROGOOD : Yeah.
EXAMINER: The Cleveland Indians?
GEORGE THOROGOOD : Yeah, in Cleveland there's a team called the Indians, you know?
EXAMINER: [Laughs] I didn't hear you at first! Um…I haven't been following them closely. Last time I checked, they were off to a good start. There's talk—sports writers and fans and such—saying they'll finish with a good season.
GEORGE THOROGOOD : Yeah, I would say so.
EXAMINER: And how's George?
GEORGE THOROGOOD : I'm sneaking by.
EXAMINER: Can I ask where you're calling from? The tour hasn't started yet, right?
GEORGE THOROGOOD : Ah…we don't like to give our whereabouts or disclose our present location.
EXAMINER: Alrighty then! We've got you down as being on the road in a couple weeks, starting in New Jersey on June 19th.
GEORGE THOROGOOD : I think so.
EXAMINER: This is the "40 Years Strong" tour. When you formed The Destroyers back in the early '70s, did you ever suspect you'd still be bringing rock and roll to the masses 20, 30, 40 years later?
GEORGE THOROGOOD : Nah…I didn't know what to think. I didn't know rock and roll itself was still going to be around. When I first picked up the guitar and started fooling around with it, Led Zeppelin was going big at the time. But outside of that it was mostly soft rock. And then the disco thing and punk rock came in. I didn't think rock would last. But then Tom Petty and John Cougar Mellencamp came along. People like that, who gave it a big boost. The Pretenders. Then MTV came along. I was working around with the blues thing at the time, and then they threw "One Bourbon, One Scotch" on the radio. And "Bad to the Bone." And we became a "rock" band!
EXAMINER: I'd say folks like you and Tom Petty and John Cougar are part of that old guard, the musicians who carried the torch through punk and disco…and grunge. And you guys kind of remodeled old-school blues for a whole new generation. Was that a planned thing—incorporating the blues into rock and writing new material in that style?
GEORGE THOROGOOD : That was just…I was about ten years behind. This was '77 or '78. What we were doing…Canned Heat and Savoy Brown and Steppenwolf had done all that in the late '60s. I was following in their footsteps, you know? Then Classic Rock radio came along, which changed everything for us.
EXAMINER: Can I ask about when you first started playing guitar?
GEORGE THOROGOOD : Sure, you can ask.
EXAMINER: Okay [laughs]. When did you first start playing guitar?
GEORGE THOROGOOD : Well, that's a tricky question, Pete. I fiddled around with it as a teenager, but never took it seriously. I was a lead singer in bands, like Eric Burdon and people like that. It was later, when I got out of school, I figured out I wasn't a good enough singer to cut it like a Roger Daltry, Robert Plant or Rod Stewart or whoever. I needed to do something more. And I had friends around who admired what I was doing with the guitar. I was fiddling around with it, but they coaxed me into working more at it, and pretty soon I got things going. It kind of shocked me, actually; had I known I could play like that, I'd have started earlier!
EXAMINER: I noticed you don't use conventional picks. You use your fingertips or finger-picks.
GEORGE THOROGOOD : Yeah, my attack was very aggressive. My fingers were always very sore, so I had to use a thumb pick and finger pick. But I never figured out how to use a flat pick.
EXAMINER: So after picking up the guitar, and maybe starting off with your first band the way most kids do, how'd you come to embrace the blues?
GEORGE THOROGOOD : Well, you know the bands were were looking at—The Buttefield Band and The Rolling Stones—I saw their names on the liner notes and things. Saw who they liked. And I saw Howlin' Wolf on Shindig! In 1965. That kind of woke me up. Like any other little boy, I listened to pop music on the radio. "A Hard Day's Night" and "Last Time," all that kind of stuff. Earlier I'd heard The Everly Brothers and Elvis Presley and Chuck Berry. Then I heard Howlin' Wolf, and I was like, "Whoa! This is disturbing!" So I started collecting records. At first it was out of curiosity, but then I started to like it. Then this Bo Diddley guy and this Chuck Berry guy—I wondered who they listened to. They listened to Muddy Waters and Howlin' Wolf. So listened to those guys and was like, "Who did those guys listen to?" They listened to Robert Johnson. So I discovered Robert Johnson and Hank Williams at the same time—within the same month or so. I fooled around with that kind of stuff, and thought to myself, "Boy, if I could get some Hank Williams-type lyrics to a Robert Johnson guitar, I might have something." That's where I came up with "Move It On Over."
EXAMINER: You ever spend a night in the doghouse after a night of revelry? Found the lock on the back door changed or have to sleep outside with the ol' pooch?
GEORGE THOROGOOD : No (laughs!)
EXAMINER: The song certainly hits home with a lot of guys, I'm sure. You come home too late and too drunk, and you walk on eggshells so you don't wake the misses. And if she catches you, your goose is cooked.
GEORGE THOROGOOD : I think that's what Hank was trying to say.
EXAMINER: I remember starting out on guitar. I think most beginners gravitate toward the keys of E and A, because you can play those twelve-bar blues riffs with the open chords. Do you have a favorite key, or favorite tuning?
GEORGE THOROGOOD : I suppose Carlos Santana can play in any key, or Aretha Franklin could sing in any key. But we're not all blessed like that, Pete! I play to G or open D. Plus I have a low voice, so that helps.
EXAMINER: You're a killer slide guitarist. When did you start working slide into your technique?
GEORGE THOROGOOD : I did that first. I was kind of backwards. I was playing slide guitar before I was playing anything else. I did that first, fooled around with it. I got behind John Lee Hooker very quickly, because something about his guitar style…I picked that up fast.
EXAMINER: Your most recent studio album, 2120 South Michigan Avenue, was a tip of the hat to Chess Records and some of the old Chicago blues artists. You had Buddy Guy sit on one of the cuts—"Hi Heel Sneakers." What was it like working with Buddy?
GEORGE THOROGOOD : We overdubbed it. His schedule is very…I work out of Los Angeles, and he works out of Chicago. So we laid down the track, and he overdubbed it later. I wasn't in the studio or anything.
EXAMINER: And Charlie Musselwhite. You had him play harp on "My Babe" and the title track. Pretty cool.
GEORGE THOROGOOD : Yeah, he was our designated harmonica player. He fit the bill perfectly. Mick Jagger wasn't available, Pete (laughs)!
EXAMINER: Your rhythm section—Jeff Simon (drums) and Bill Blough (bass)—is one of the tightest in all of rock. In your mind, what distinguishes them? What makes them so good?
GEORGE THOROGOOD : Practice!
EXAMINER: [Laughs] Yeah, I suppose four decades of locking in might do that.
GEORGE THOROGOOD : We've been doing it for a long time! It wasn't always that way from day one. It takes a while!
EXAMINER: How do you and co-guitarist Jim Suhler decide between yourselves who'll play what parts on record and in concert?
GEORGE THOROGOOD : That's very easy. I can't really play lead guitar at all. I play rhythm and slide guitar, and that's about it. I get into some Chuck Berry-type, stuff. But that's about it. So Suhler takes the solos, and I'll play the rhythm and slide and stuff. I'm more of a rhythmic player. My soloing is pretty much limited to playing slide guitar.
EXAMINER: Your songs have been used in the movies and on television a lot over the years. I remember hearing "Bad to the Bone" in that cartoon flick Megamind a couple years back. My kids loved the song and asked who it was. 'That's George Thorogood!' I told them. And they've seen Terminator 2 since then, and James Cameron put the song to great use early on—when Schwarzenegger puts on his shades and hops on the motorcycle. You ever come across a movie where you weren't so pleased with how a tune was used?
GEORGE THOROGOOD : I question the use in the movie 3000 Miles to Graceland.
EXAMINER: That's that Kurt Russell Elvis spoof, right? Don't think I caught that one.
GEORGE THOROGOOD : You're not missing anything, I don't think. They could have called it 40,000 Years From Graceland.
EXAMINER: Still, it's got to feel good having that repeated exposure over the years on TV as well as radio. You're assured new generations of fans. And the kids pick up what their parents listen to or watch, movie-wise. I've got a couple youngsters who are more familiar with The Beatles than they are with, say, The Black Keys.
GEORGE THOROGOOD : I can't help that. It's probably due to the fact that…the parents grew up on rock. Some of the grandparents grew up on rock. Rock and roll's been around since, what, 1955 now? And heavy rock, which came out in the late '60s with Hendrix. And you have your Crosby, Stills & Nash. Or Led Zeppelin; they still rule the airwaves. I hear Zeppelin every day, and they've been around since '69. So the people who grew up with that still listen to that, and now their children listen to it. And somewhere along the way, we got invited to the party!
EXAMINER: Myself, I distinctly recall listening to you on the radio while working the pizza shop back in high school. We'd have the boom box set to 98.5 FM—can't remember if it was still WGCL or WNCX. Or we'd listen to WMMS. Those guys would play you on a regular basis. It got us through the work day, made it more fun on the job.
GEORGE THOROGOOD : That's where home is. I was the same way. In 1967 I was working a produce stand, and I'd have the radio on full blast. I remember years later, I was on stage with Stephen Stills and Johnny Rivers and Graham Nash, and when I was up there playing with them, it freaked me out. Because I remembered working the produce stand, when I'd listen to the radio and heard Buffalo Springfield and The Hollies and Johnny Rivers singing "Summer Rain." And I thought, "Holy smokes! I'm on stage with these guys!" And back then I was just doing my job, like anybody else. It's still that way today. We all go to our jobs, and most of us would rather be doing something else. So we keep the radio on all day. Now it's called Classic Rock radio. And it rules the world! Let's get with it! And in your neck of the woods…and in Cleveland, that whole area, that whole strip of Ohio, Indiana and Illinois. That's your die-hard Classic Rock world right there. I know; I've been there enough times! That's why you put the Rock and Roll Hall of Fame in Cleveland.
EXAMINER: Can fans expect any new material in the set July 1st?
GEORGE THOROGOOD : I have a hard enough time playing the songs I know, Pete (laughs)!
EXAMINER: So it's going to be a "hits" kind of affair? Cleveland loves the hits.
GEORGE THOROGOOD : I think that's why Ohio is my friend.
EXAMINER: It's a delicate balance with everyone, I guess—how to balance new material with old. Some bands bludgeon you with new stuff in concert and keep 'em waiting for one or two hits at the end.
GEORGE THOROGOOD : I think it's safe to say they wouldn't like it if we said, "We're not doing 'Bad to the Bone' or 'Get a Haircut.' We're gonna do a bunch of stuff you haven't heard before!"
EXAMINER: I covered your recent Montreux DVD, and there's a bonus interview on it where you talk about generating a buzz. You say something to effect of, "When that buzz is gone, George is gonna be gone!" How nobody's looking at their shoes when Tom Jones takes the stage. How you can tell—based on audience noise—that Paul McCartney is in the house.
GEORGE THOROGOOD : Yeah…you know. I've seen Tom Jones four times, and he does "It's Not Unusual" every time. And The Stones always do "Honky Tonk Women" and "Tumbling Dice" and "Jumpin' Jack Flash." That's what they do. That's what everybody does. You do the stuff people know, and maybe put a couple surprises in around it. When John Fogerty comes to town, nobody says, "I hope he doesn't do 'Fortunate Son' again!" I don't think that's gonna happen (laughs)!
EXAMINER: There's still a buzz for George Thorogood in Cleveland. I don't expect that'll go away anytime soon.
GEORGE THOROGOOD : Well, you're hiring us back, aint' cha? See, promoters and club owners are paid to see what's still happening, or what still generates excitement with ticket buyers. That's a promoter's job. And radio people, of course. Radio is paid by advertising. They decide what songs to play that'll keep people listening. And that's what promoters and the Classic Rock people do, and what's been laid out for me. So I can still get a job, because people are still excited about it. Promoters are paid to say, "Let's get this band, because people are still interested in it." And that's what I mean about the "buzz." It's the interest.
EXAMINER: Yeah, we're still a rust-belt rock mecca. Lots of working people who still like to get out and unwind with live music. Even when the economy's in the crapper!
GEORGE THOROGOOD : I'll tell ya, it's the home town of Joe Walsh. So you're striking right to heart of the whole thing.
EXAMINER: Over at House of Blues Cleveland there's a plaque of you on the wall in one of the opera boxes—the room they call "Big Mama." It's like, an alabaster bust of you framed on the wall. You ever see that when you played there?
GEORGE THOROGOOD : Yeah, I was up there with Dan Aykroyd when it opened.
EXAMINER: They opened in 2004, and I know you've been there a couple times since.
GEORGE THOROGOOD : Also, I used to regularly do the Taste of Cleveland on the Nautica stage.
EXAMINER: Right! You're a frequent flyer. This time you're at the Hard Rock in Northfield. They just opened in December, so this'll be another first for you.
GEORGE THOROGOOD : Well, if any place fits the bill for having a Hard Rock Café, it's Cleveland. That's a match made in heaven! Rock and roll never sleeps. It just passes out! See ya July 1st!
George Thorogood and The Destroyers. Tuesday, July 1, 2014 at Hard Rock Rocksino at Northfield Park (10777 Northfield Road, Northfield, OH, 44067). Tickets $40.50-$72.90. Show 8:00pm / Doors 7:00pm.

Advance Tickets: http://www.ticketmaster.com/george-thorogood-the-destroyers-northfield-o...