Courtesy American Blues Scene
George Thorogood is an American musician, singer, and songwriter. His "high-energy boogie-blues" sound became a staple of 1980's rock radio. His original songs include "Bad to the Bone," and "I Drink Alone." He has popularized "Move It on Over," "Who Do You Love," and "One Bourbon One Scotch One Beer."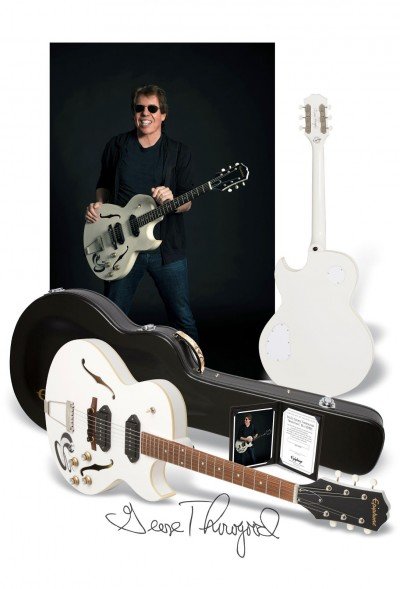 Brant Buckley:
Could you talk about your new Epiphone White Fang ES125 guitar? What made you want to have your own signature model?
George Thorogood:
It really wasn't my idea. It came to us out of necessity. The Epiphone Company and people in our organization had been urging me to get new instruments. The ones I was using were completely worn out. It was costing us a fortune to repair them. Maintenance on the old instruments is expensive and they don't make them anymore. They are very frail guitars and I have a pretty heavy attack on the guitar. They tend to wear out. It's not like banging on a Les Paul or a Stratocaster.

The original new models didn't work out. Epiphone ended up taking stock guitars from the line and altering them to my style. It made sense to me. It's like a pair of pants but the cuffs are too long so you make alterations. Playing my Gibson is the equivalent to swinging the bat and the ball bounces into the stands for a ground rule double. When I play the Epiphone, I hit the ball into the upper deck for a grand slam home run. I went back to the Gibson for one night and I could tell from the response from the audience. It was good but not as good as the Epiphone model. I now use the Epiphone at all times.
What do you look for when choosing cover material? What tests do songs go through?