'Bad to the Bone' after 40 years of blues
By JEFF HARRELL South Bend Tribune
The first time he met The Rolling Stones, Charlie Watts asked for his autograph.
And after 40 years, he remains the one constant carrying the blues torch to the mainstream rock audience.
But if you really want to engage George Thorogood in a good conversation, if you really want one of the most successful musicians of the past 40 years to kick back like you're at a bar and shoot the breeze over a couple of beers, one subject gets his undivided attention.
Baseball.
The man who wrote "Bad To The Bone" is also a former semi-pro second baseman and still a die-hard New York Mets fan. Not that he's too excited about the prospects of his Mets this year.
"If they could get a catcher, three outfielders, and a first basemen, and four more pitchers," Thorogood says with a sarcastic sigh, "they'd be OK."
Still 'Bad to the Bone'
Courtesy - LeaderPub.com
By Jill McCaughan
George Thorogood and The Destroyers rocking hard after 40 years
MICHIGAN CITY—Since late February, George Thorogood and the Destroyers have been crisscrossing North America, playing more than 100 dates on their anniversary tour, "40 Years Strong."
Soon, fans in the Michiana area will have their own chance to see the iconic blues-rock band when they come to Blue Chip Casino's Stardust Event Center on July 12.
"The schedule you see is nothing new for us. We generally do this every year," George told me by phone last week, just a few hours before he and the band took the stage at the Horseshoe Casino in Elizabeth, Indiana.
In fact, the band's website quotes George as saying, "I consider my job description to be 'live rock performer.' When we play, whether it's a great old theater, a brand new casino, an outdoor festival, wherever, we're making a living doing what we love to do."
With 15 million albums sold worldwide, and having performed over 8,000 live shows, it seemed natural to ask George look back to the beginning when he first got into rock 'n' roll.
To Stand OR Not to Stand?
This George Thorogood Fan Is Not Happy With the Crowd At Last Night's Show
Posted By Vince Grzegorek
Presented without much comment, this letter sent to Scene this morning expressing eloquent and perturbed thoughts directed at the fans at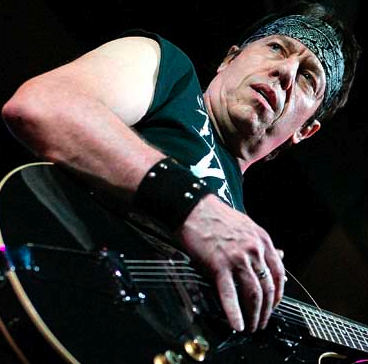 the George Thorogood concert last night. Does Cleveland rock? Let our concerned reader answer that question.
I wanted to contact you to inform you about a tremendous injustice happening in Cleveland. I wouldn't believe it had I not only witnessed it, but I was also accosted by these perpetrators of complacency.
Last night, my wife and I attended the George Thorogood and the Destroyers Rock concert at the Hard Rock Racino and this is where the trouble began.
Let me give you some background on this just in case you guys are from Pittsburgh or Sacramento or Albuquerque. You see, growing up in Cleveland, we take our Rock N' Roll seriously. Its not just some fashion statement to us. Its our culture and religion and the reason we get out of bed some days. Its the soundtrack to our lives.
George Thorogood Live From Red Rocks on AXS TV
Late last summer, iconic blues-rocker George Thorogood wowed the Red Rocks Amphitheatre with a dynamic live show celebrating his 40 years in music. If you missed being there that evening—or if you were there and want to re-live the moment—AXS TV is giving you the chance this 4th-of-July weekend with a special premiere broadcast of George Thorogood and the Destroyers – 40 Years Strong: Live from Red Rocks.
Over his long career, Thorogood has released sixteen studio albums and five live recordings, garnering worldwide fame with hits like "One Bourbon, One Scotch and One Beer," "I Drink Alone," and of course his signature hit "Bad to the Bone," which has been used in countless film and television placements over the years. George Thorogood and the Destroyers have sold more than 15 million records worldwide, establishing them as icons in the blues world. Last year's historic Red Rocks show also featured performances from blues legend Buddy Guy, who has won six Grammys over a career spanning five decades. Seeing two icons performing on the same stage on the same night is just part of what made the evening so special.
George Thorogood and the Destroyers – 40 Years Strong: Live from Red Rocks will be broadcast on AXS TV on Sunday, July 6, at 7 p.m. EST, with an encore presentation at 1:00 a.m. the morning of July 7, and again on July 8 at 2:10 p.m. The show is being broadcast as part of the AXS TV concert series, which will include live performances from Guns N' Roses, Lynyrd Skynrd, Bad Company, John Fogerty, Doobie Brothers, Tom Petty, Sammy Hagar, The Beach Boys, Steve Winwood, Ringo Starr, Greg Allman, and another Red Rocks live concert with Tedeschi Trucks Band, among others.
Don't miss to chance to re-live a moment in music history. Tune in to AXS TV Sunday night for the rockin' guitar work of George Thorogood.